Subtitles & Translation services are available for files once a translation profile has been created. Upon completion of the translation process, subtitles can be downloaded directly from the account system in a variety of formats.
If the source content was uploaded via an integration with Postback Captions enabled, the translation should automatically post back to the hosting video platform.
BEFORE submitting requests for subtitles & translations REVIEW your transcripts and make any necessary edits. Edits made to your transcripts AFTER submitting them for translation WILL NOT propagate to the translated file. Avoid editing the transcript until the subtitles & translation service is complete.
Please note that a subtitles & translation order can be made for multiple files at once but only one language at a time.
Step 1- Select Files
From the My Files page, check the box next to the files to be translated.
If a translation profile has not been set up, you will be directed to do this first.
See more information on creating a translation profile.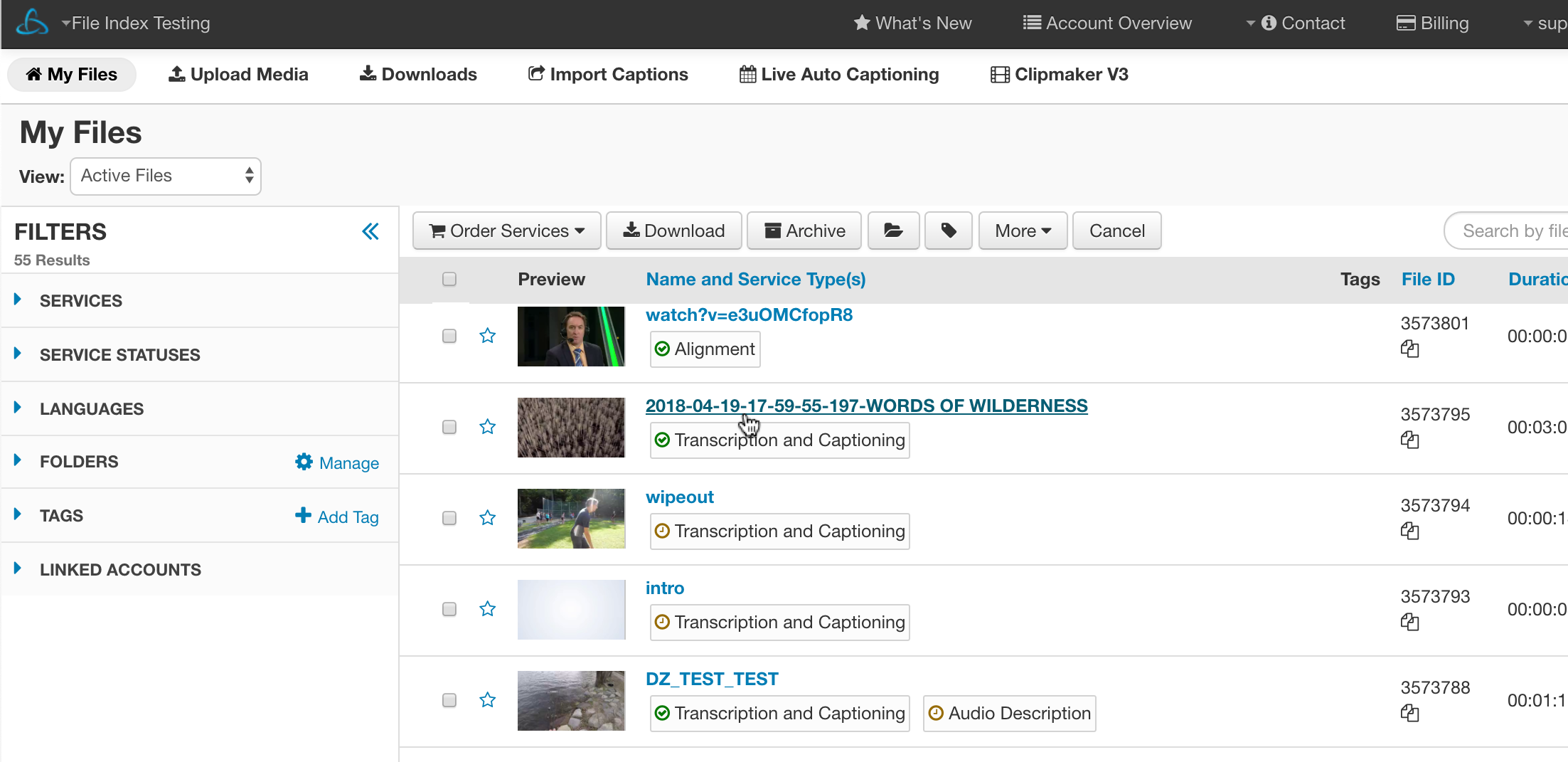 Step 2- Click Order Services
Click Order Services located above the list of files, and then click Translation from the drop-down menu.
Step 3- Select Language
Select a language from the list of available languages, Please note that only one language can be chosen at a time.
On the right side of the page the order summary will be viewable. From this menu view the current translation request which includes selected language, the translation vendor, and the estimated cost.

After selecting a language click Next.
Actual cost may change slightly based on vendor measurement methods.
Step 4- Select Vendor and Service Level
Vendor Selection
After a language is selected, the Vendor options available for that language will display.
Select either Transperfect, Gengo, or Machine Translation.
Click the link below for more information regarding languages and service levels supported by the following translation vendor options...
Click here for more information regarding languages and service levels for TransPerfect
Click here for more information regarding languages and service levels for Gengo
Click here for more information regarding languages for Machine Translation
The vendor set as your default translation vendor within the project Translation Profiles section will be selected if it a supported language was selected in step 4. If the language selected is not supported by your project's default translation vendor, the other translation vendor will be selected. If the language selected is supported by Machine Translation, this will also be an option.
Vendor's Service Level
Transperfect offers one service level with two fast turnaround options, Expedited and Rush.
Gengo offers a Standard service level and a Pro service level.
Machine Translation has no available service level options.
Actual cost may change slightly based on vendor measurement methods.
Once the Vendor has been selected and a service level, if applicable, click Next.
Step 5- Select Translation Profile
Select the desired Translation Profile for this translation order.
Once selected, click Next.
Step 6- Order Translations
Before submitting the translation order check that box ensuring the translation profile has been checked and the source file was proofread as all translation requests are final.

NOTE All Translations Orders are FINAL and CANNOT be canceled!
Once the order has been reviewed click Order Translations.
If you need the same files translated into other languages, simply repeat this process for each desired language.
Please Note: Files must first be transcribed in their original language to create an initial transcript for our translation vendors to follow. Turnaround deadlines for translation files are in addition to the original turnaround deadline for the initial transcription service.