This guide will show you how to order live professional captions in 3Play Media's online platform.
Before ordering
As a first step, make sure the 3Play team has enabled Live Professional Captioning in your 3Play account.
You can verify this by starting a Live Captioning order. If you do not have the ability to select Service Type (see screenshot), then contact your 3Play account team to enable Live Professional Captions and to learn more about this service.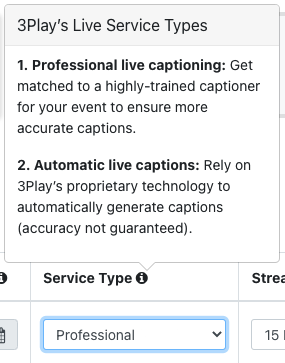 In your account

Below are steps to order a professionally captioned event.
Step 1
Navigate to the Live Captioning module from the top menu in the 3Play platform, and click "Schedule Live Captions."
Step 2
Pick a video platform to schedule captions for or select the RTMP workflow.

Step 3
Select the event that you'd like to have professionally captioned, or for an RTMP stream:
Confirm the Event Start Time. Note that this time may be pulled into 3Play from your video platform. Event Start Time represents the time at which your audience-facing event will begin.
Select service type, Professional
Select Stream Start Time. If you would like to verify your stream connectivity prior to the Event Start Time, we recommend selecting a Stream Start Time 10-20 minutes in advance of your Event Start time.
Stream Start Time is the time at which 3Play will start listening for a stream from your event; you will not be able to stream to 3Play prior to this time.
Note:
Your professional captioner will check in 20 minutes prior to the Event Start Time and send test captions. Charges for the event begin when your captioner checks in up to 20 minutes prior to your Event Start Time.
Test captions require that you are streaming to 3Play. Your professional captioner will start delivering captions at the Event Start Time.

Step 4
The next page requires the following inputs:
Estimated event duration. Please note that if your event is matched to a captioner, you will be billed at minimum for the estimated event duration because the captioner is reserved for that duration.
Captioning overtime options (either fall back to Live Auto Captions or continue with the professional captioner, depending on their availability)
Event type
Optional recommended inputs to support event caption accuracy include:
Event Instructions
Wordlists

Step 5
Upon scheduling completion, the confirmation page provides the Stream URL and Stream Key. For any platforms other than Zoom, you need to enter the Stream URL and Stream Key into your encoder to stream to 3Play at the Stream Start Time you specified when ordering.
You now have successfully ordered Live Professional Captions.
Step 6
Prior to your event, you will be able to determine the captioner match status which indicates whether or not a captioner has been matched to your event.
Any events not matched may be canceled without a fee up until the Stream Start Time.
All events set to failover over to Live Auto Captions that are not matched to a captioner will be auto captioned at event start time.
Customer Support
Leading up to your event
You can create a support case from the Actions dropdown associated with the event. From the Actions menu in the Live Captioning Dashboard, select 'Request Customer Support'.

During an event
3Play Media will provide access to real-time chat support for the duration of the event. Customers can access the Chat Support feature from the Event Details page.