Follow the steps below to schedule captions for a live captioning event with captions virtually encoded (CEA 608) into your RTMP stream. In this workflow you will stream from your video source (encoder) to 3Play, 3Play will provide you with an RTMP URL and Key to stream to from your encoder. Upon receiving your video stream, 3Play will encode your captions and restream the caption encoded stream to your provided Stream Target (typically your audience facing Live player).

Note that events default to US-Eastern time unless a new timezone has been configured at the user level.
Workflow diagram: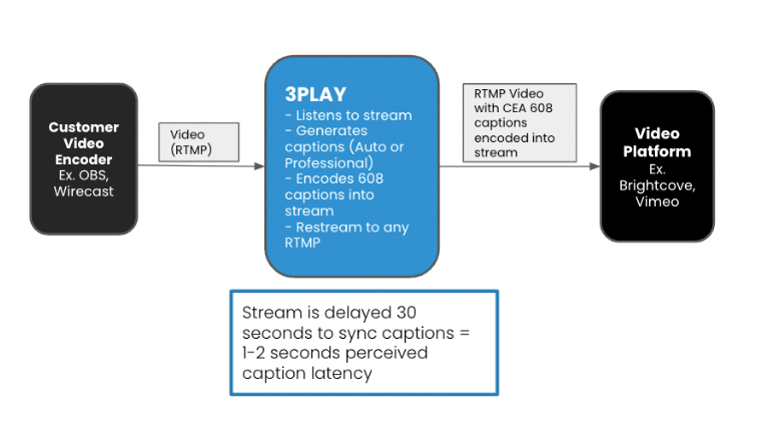 Key Notes:
3Play is delaying the stream to your output Video/Event platform by 30 seconds to align the captions to the video stream (such that your audience should experience only 1-2 seconds of caption latency in relation to the event audio)
In this workflow, 3Play is streaming both video and captions to the end streaming platform - if you choose to End Event through the 3Play interface, this will also end the video stream. Do not select this unless you want to stop streaming your video.
Additionally, if your stream to 3Play, or the 3Play stream to your specified restream URL is compromised, both captions and video will be impacted. As such we advise customers using this workflow run a secondary stream as a fallback.
You must successfully test your live caption setup at least one week prior to attempting to use it on a live, production event. The configuration you test should be the same used in production – troubleshooting a new setup at production time is rarely successful.
Navigate to Live Captioning in your 3Play account
As a first step, click into the Live Captioning module within your 3Play Media project, click "Schedule Captions" and select "Virtual Encoding"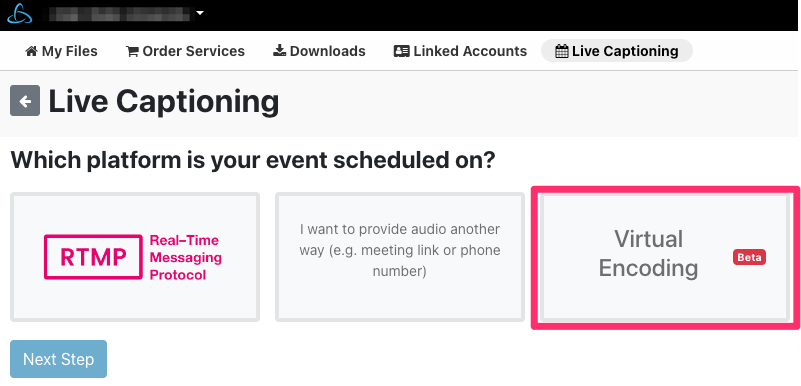 Provide General Event Information
Add Event Name
Tell us when your Event Starts

Click the calendar icon to choose the MM/DD/YYYY and HH:MM:SS of the event. The time will automatically be set to 10 minutes in the future but can be manually edited within the field.
Please note: The live event must be scheduled at least 5 minutes in the future and it is editable up until 30 minutes prior to the scheduled stream start time. If you need to edit your event within 30 minutes of the event start, please cancel or end the original order and create a new event.
3Play will initiate a service to listen for your stream at this time. Do not attempt to stream to 3Play before the event start time, as the stream connection will fail to connect from your encoder to 3Play and your encoder will display an error message.

Select file storage location

This represents the folder that your transcript will be stored in once the event is complete.

Select Service Type

Select either

Live Professional Captioning
Live Auto Captioning

Depending on your selection here, please fill out the appropriate sections in the instructions below.
Provide Professional Event Information (Live Professional Captioning Only)
Estimated event duration

This represents how long you think your event will be, and tells 3Play how long to schedule a captioner for your event.

Captioning overtime option

At the end of your estimated duration you can elect to fallback to auto captions, or you can continue with professional captions at an overtime rate, contingent on captioner availability.

Event Type

This helps the captioner prepare for the type or format of event.

Event Description

Provide any information on the event that would help the captioner prepare. This could include speaker notes, an agenda, a description of the event subject matter, etc.
Stream Input Configuration
Stream Start Time

Select Stream Start Time. If you would like to verify your stream connectivity prior to the Event Start Time, we recommend selecting a Stream Start Time 10-20 minutes in advance of your Event Start time.
Stream Start Time is the time at which 3Play will start listening for a stream from your professionally captioned event; you will not be able to stream to 3Play prior to this time.

Note:

For professionally captioned events, your professional captioner will check in 20 minutes prior to the Event Start Time and send test captions. This check in time is independent of the Stream Start Time. Charges for the event begin when your captioner checks in up to 20 minutes prior to your Event Start Time.
Test captions prior to the Event Start Time require that you are streaming to 3Play.

Max Stream Time

This is intended to serve as a failsafe in case you forget to stop streaming, 3Play will terminate your captioning event once the Maximum Stream Time has been reached.

Stream Reconnection Time

The Stream Reconnect Wait Time setting governs the duration, in minutes, that 3Play will wait for your stream to reconnect before considering the live stream completed and spinning down our service.

Reserved Stream Target (Optional)

If you don't see this an an option, it's not enabled in your account. For additional information on enabling and managing Reserved Stream Targets,

click here

.
For additional information on any of the fields in Stream Input Configuration, click here
Streaming specifications:
Please note, the transcoder handling your video stream is a passthrough transcoder, any streaming settings you configure will be maintained in your stream output. Please ensure that you are adhering to the streaming settings specified by your streaming destination.