If you already have transcripts for your video/audio files, transcript alignment is a faster and less expensive way to create captions and/or use the 3Play Media interactive video plugins.
Before getting started you will need...
- A video/audio file
- 
A pre-existing transcript of the video/audio file in an unformatted plain text  (.TXT) format. 
-Alternatively, either an SRT, SBV, or WEBVTT web caption file can be used for this service, but ONLY via Alignment FTP upload
See information about 3Play Media's suggested best practices to achieve the highest quality results when using this service.
Please note that the duration of each file submitted for alignment should not exceed 2 hours.
DO NOT submit songs, music etc. This process is intended for speech not singing. 
Note on alignment turnaround time: A turnaround time cannot be assigned to a transcript alignment request as this process is 100% automated. Files will usually be completed within a few hours and almost always by the next business day. For files greater than 1 hour, the alignment will likely be complete by the next business day. Factors that impact the turnaround time of an alignment request are the duration of the media file and our capacity at the time of upload.
For users new to the transcript alignment process it is suggested to set up the alignment review tool before submitting transcript for alignment.
See more information on the transcript alignment review tool
Step 1- Click Upload Media
After signing into your 3Play Media account click Upload located on the top, left hand side of the page.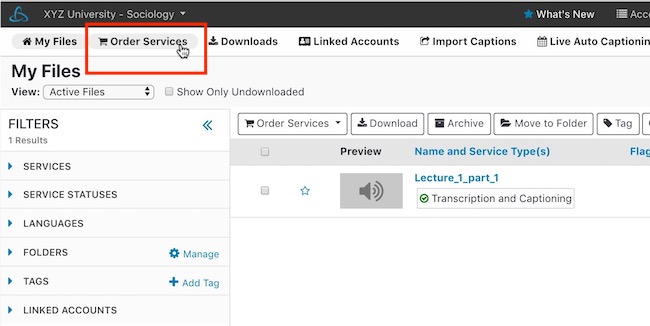 Step 2- Choose Upload Method
Once Upload Media is clicked you are directed by default to Upload > From Computer.
Click Choose Files if the media file you are submitting for alignment is on your computer.
Other Options for Alignment Uploads via the account the system....
Click From Links if you are submitting public links to your media files.
Click Linked Account and select the linked account you would like to submit content from for transcript alignment requests.
Step 3- Choose Alignment Service
After uploading the media file you will be directed to the Upload > Service menu where by default the English Transcription and Captioning service is selected.
Choose Alignment.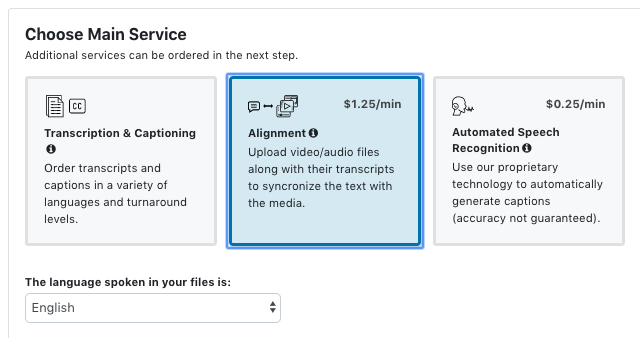 Once Alignment has been selected click Continue.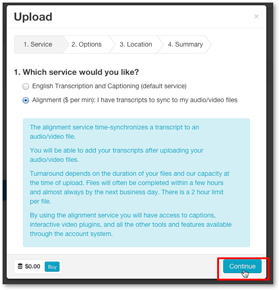 Step 4- Add-On Services: Audio Description & Vertical Caption Placement
Check the box next to Add Audio Description and/or Add Caption Placement under Add-On Services to order these services.
Audio Description

Once the box Add Audio Description is checked select one of three options: Standard Audio Description, Extended Audio Description, or Use 3Play's Recommendation.
Learn more about the difference between Standard and Extended Audio Description here.
If you are unsure as to whether your video will require Standard or Extended Audio Description, you can opt to Use 3Play's Recommendation. Learn more about using 3Play's Recommendation here.
Vertical Caption Placement
Check the box Add Caption Placement under Add-On Services to also include this in the order. See more information regarding vertical caption placement.

Click Continue.
Step 5- Select Language
By default English will be selected.  Choose from the list of languages that the video/audio file is in.
After confirming the language, click Continue.
Step 6- Assign Folder Location
Next create a folder where you want this file to reside or select a folder that already exists in your 3Play Media.

Step 7- Review and Place Order
Review your order summary.
If you would like to change the destination folder, turnaround time, service type, or selected media files after reviewing the summary please go back and make the desired changes BEFORE clicking Place Order

Read the cancelation policy and check the box acknowledging that you have read the policy.

Once you have checked the box, click Place Order.
Step 8- Drag and Drop the corresponding .TXT file
First the media file/s will upload. After they are uploaded you will be directed to the Add Alignment Transcripts page where you can either paste text or drag and drop a plain text (.txt) file into the box that corresponds to the media file.
Dragging and dropping a .txt file is the preferred method. 
If you are satisfied with your transcript and have checked to make sure the transcript corresponds to your media file, click Submit for Alignment and your file will begin processing.
Click Save for Later if you would like to leave this page and submit the file for alignment at a later time.
Click Clear if you would like to remove the text that was added to the transcript alignment text box.

PRO TIP: The text you get back and use in the interactive transcript plugin or download in transcript file formats will look exactly like the text in the upload box right before you hit submit.
If you are submitting more than one file for alignment, be sure you are adding the correct transcript to the corresponding text box.  There will be a text box for each media file you chose to upload in step 3. The media file's name will be located on the top, left-hand corner above each box.
You will need to click Submit for Alignment for each transcript you want aligned.
Repair transcript automatically:
Click Repair below the text box if want your transcript and speaker IDs automatically formatted.
When Repair is clicked, Speaker ID's will get converted to all caps with a colon, e.g. Speaker 1: becomes SPEAKER 1:.
If you don't like the way the text looks after formatting, you can cancel the job and reimport the transcript and then make edits either within the text box or format them offline within a text editor.
NOTE: If your transcripts contain lots of colons, you may want to manually repair your transcript and not use the Repair function.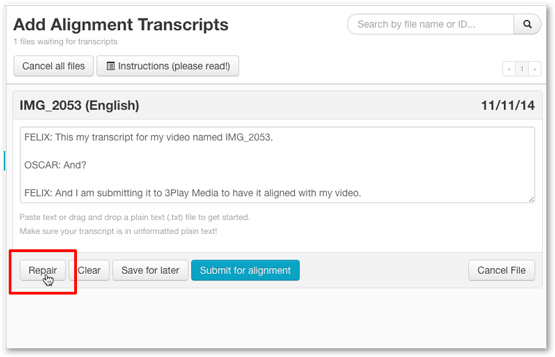 Cancel this job:
If you want to cancel this submission, click Cancel this job located on the top, right-hand corner above the text box. One more prompt will follow to confirm this cancelation.
Each text box has a Cancel this job button.
Navigating to Transcripts for Alignment:
If you leave this page before submitting your transcripts and media files, you can get back to this page by clicking the Add Transcripts for alignment under Activity of the My Files page.
There will be a count of how many files are waiting to be submitted for the transcript alignment service.