Once the Live Event has been scheduled in YouTube, follow the steps below to schedule Live Captions for that event within the 3Play Media account system.
Live Captioning Event scheduling defaults to US-Eastern time unless a new timezone has been configured at the user level and configured for users outside of the US-Eastern time zone.
Click to learn how to schedule a YouTube Live Event
Step 1 - Schedule YouTube Live Event in 3Play Media
Sign in to 3Play Media and click Live Captioning in the top navigation bar.

Step 2 - Within 3Play Media Click Schedule Live Captions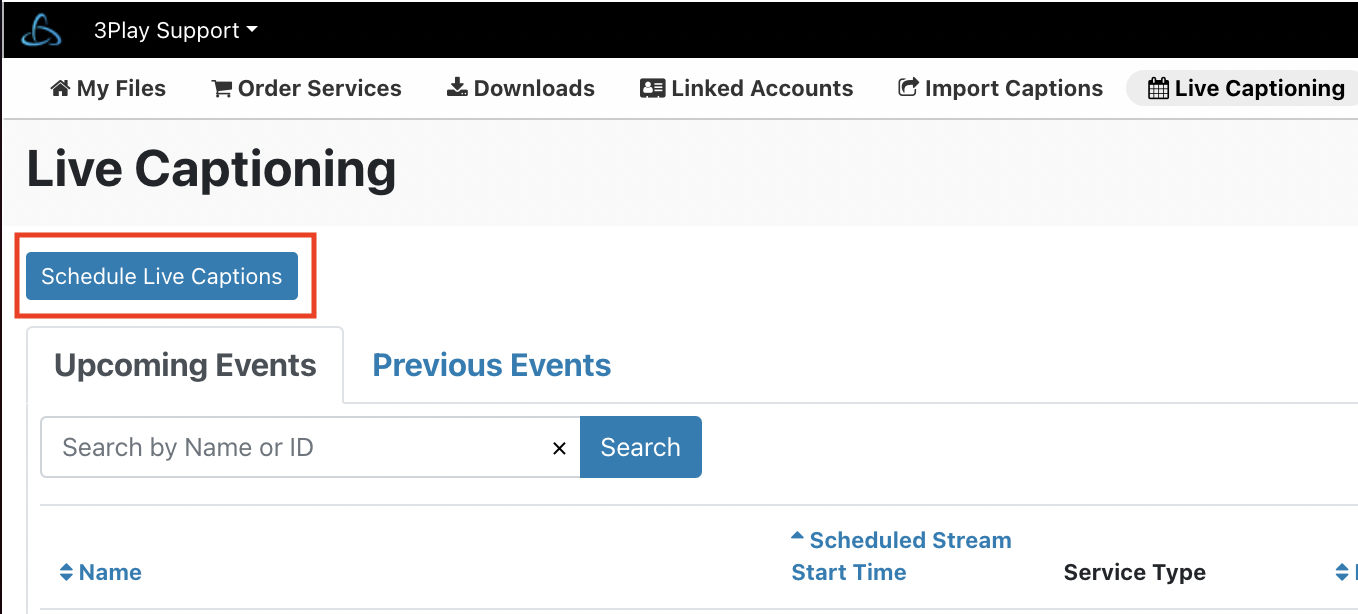 Step 3 - Select YouTube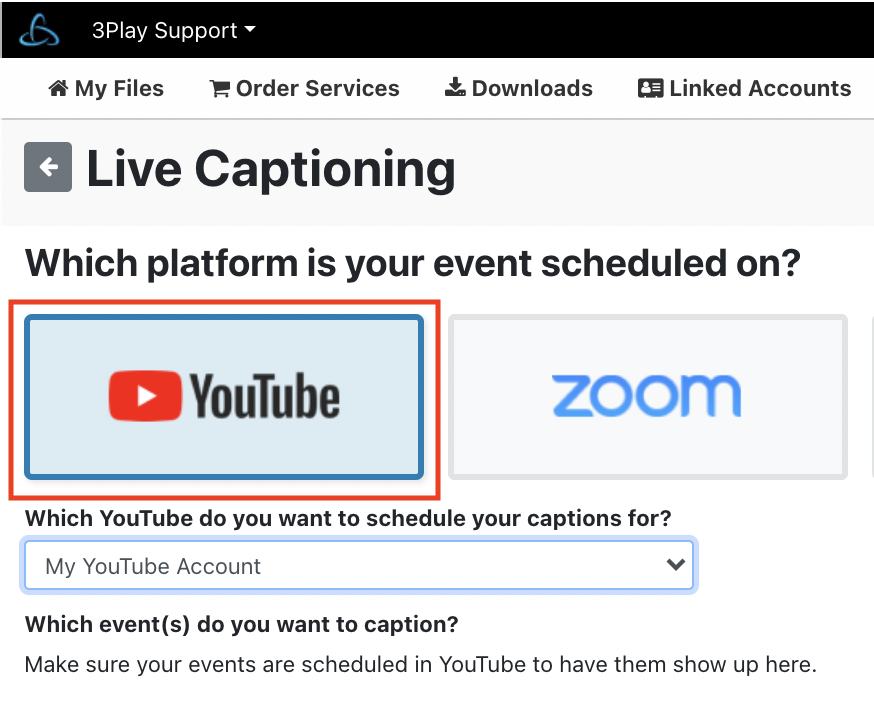 Step 4 - Select the YouTube linked Account and Event
Select the YouTube account corresponding to the live event scheduled in YouTube (if more than one account is linked) and select the live event by checking the box to the left of its name.
Step 5 - Configure Live Captions
Start Captions
Once the Meeting is selected note that Start Captions defaults to 15 Minutes Before. This is 3Play Media's suggested setting as it should allow enough time to ensure the captions will display during the YouTube Live event however it can be adjusted to At Event Start Time, 5 Minutes Before, 10 Minutes Before, 20 Minutes Before, or 30 Minutes Before.
IMPORTANT: Events are scheduled using Eastern Time unless a new timezone has been configured at the user level and configured for users outside of the US-Eastern time zone.
Wordlist

(optional)
Click + Add Wordlist to provide any words the inform the automatic speech recognition process.
Do not add words with 3 or fewer letters - they will be removed from the list

Do not add words with special characters, except for apostrophes and periods

When adding a name or short phrase, keep all words together on a single line

Wordlists should be under 75 items in length
Once words have been added, click Add Wordlist
Advanced Settings
Click Edit Advanced Settings to adjust the settings below for the Live Captioning event.
If any Advanced Settings are changed from their default values, click Save Changes.

Maximum Captioning Delay
This will set a delay between the stream we receive and the captions we output. Longer latency will result in a more accurate output.
Defaults to 5000ms (5 second delay) however this can be toggled between a 2-15 second delay
Stream Wait Time
Set an amount of time for our system to wait for the event to begin. Once the determined wait time is reached for the scheduled event and the event has not started, the scheduled captions will no longer be available.
Defaults to 30 minutes

Max Stream Time
Set a maximum time for your live captioning event. This feature can be used as a safety net should a live event not be manually stopped. The Max Stream Time will determine a hard stop for the event as well.

If it is anticipated that a live event may run longer than scheduled, factor this when determining the Max Stream Time. Events in your project can be no longer than the Event Max Time setting.
Defaults to 240 minutes

Note that when a live event stream is manually stopped this will also override the set Max Stream Time and conclude the live captions for the event as well.

Save Event Stream
If enabled, the live stream will be saved as the source for the file after the event. This is useful if service upgrades are anticipated. Leave this off otherwise as it incurs extra processing both during and after the event and costs an additional $0.10/min.

See more information regarding upgrading Live Captioning files
Profanity Filter
Set a sensitivity level for filtering out offensive words.
Defaults to Normal however it can be changed to None or Strict.
IMPORTANT: Advanced Settings can be edited up to 5 minutes prior to the scheduled start of the Live Captions!
Step 6- Click Schedule Events
Click Schedule Events once an event or multiple events have been configured.
Once clicked, you'll be redirected back to the event page within 3Play Media.

Next Steps...