Step 1 – Log in
Log into your 3Play Media account at http://account.3playmedia.com
Step 2 – Select audio description file to edit
From the

My Files

page, select

Audio Descriptions Complete

 to see your completed audio description files. Click the file name of the completed file you would like to edit.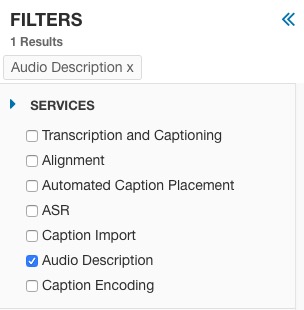 Step 3 – Edit your audio description
From the File show page, click the AD Preview button. 

Once in the edit window, you can click into the descriptions on the right to make changes.  Click Save and Finalize File after proofreading your edits to have the changes propagate to your 3Play Media file.

From the My Files page, your file will be temporarily unavailable for download and other actions until this process has finished.
Once the audio description is done reprocessing, select the AD Preview button again to listen to your changes.  If you would like to modify it further, repeat the above steps.  If you decide that you would like to go back to the original description, simply select the Revert Back to Original button.
Note: You may find the following pattern in your descriptions: "[]//". Our describers use this arpabetic syntax to specify synthesized speech pronunciation. Do not change this pattern unless you intend to change the pronunciation.