Once the file associated with your Limelight content has been processed by 3Play Media, you can download the DFXP captions file and add that to your Limelight content. Note that this is different than publishing a Limelight player on a separate webpage with the 3Play Media captions plugin. This article is a guide to adding closed captions to content directly to your Limelight Video Platform.
For more information see Limelight's Closed Captioning Guide.
Step 1- Log into your 3Play Media account
Once your captions are ready for download, log into your 3Play Media account.
Step 2- Select your 3Play Media file
Click on the file associated with your Limelight content.
Step 3- Click Request Download
Click on the Request Download button located above your list of files.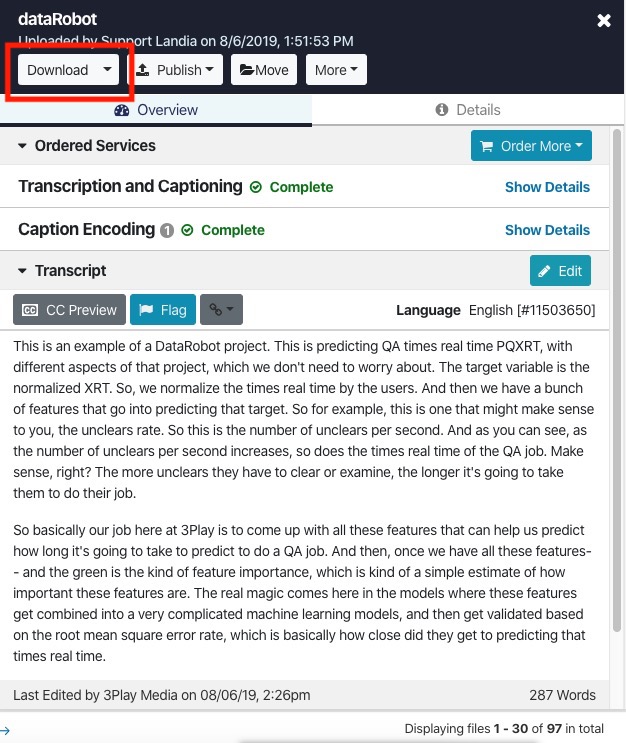 Step 4- Download the DFXP file format
Click the download icon for the DFXP file format, then click Next. The file will begin downloading to your computer.
Step 5- Sign into your Limelight Video Platform account
Step 6- Select the content
After logging in, you will be directed to the Media page. Select the content associated with the DFXP file.
Step 7- Upload the DFXP file
Once you have selected the file, go to the Media Properties menu located to the right of the content list. Scroll down the menu and locate Closed Caption File and click Upload. Select the DFXP file from your computer that corresponds to the selected content and upload it to Limelight.
If the DFXP file was successfully uploaded, the closed caption icon with the filename will be displayed.