Order Instructions help our transcript editors caption your content more efficiently and accurately. They typically include additional instructions for the transcript editor working on your content. For example, they can provide the editor with speaker names and specialized acronyms in the transcript. Order Instructions can either be attached as a PDF or provided as unformatted plain text and can be applied at the file, batch, folder, or project level.
Please note that if you have requests that deviate from 3Play's style guide, you should contact your account manager or 3Play support to discuss these.
Default Order Instructions can be added at the FOLDER or PROJECT level:
PROJECT level Order Instructions apply to ALL content uploaded to this project as well as the project's pending files.

When Order Instructions have been added at the FOLDER level, ONLY the content uploaded to that folder as well as its pending files will be associated with the Order Instructions.
If you have default project Order Instructions then they will be overwritten by the default folder Order Instructions.
Order Instructions may also be added or edited for individual files while a file is still in the pending state.
PRO TIP: Folder or Project level Order Instructions can be added before uploading! Instructions for an individual file can only be added immediately after uploading and while the file is in the pending state.
PLEASE NOTE: 3Play Media assumes that any and all content uploaded to your account requires transcription. You will be billed based on the duration of the file. Notes added to your Order Instructions calling out what to transcribe and what not to transcribe will unfortunately be disregarded.
Step 1- Click Settings
On the top, right hand corner of the My Files page click Settings.
Step 2- Click Default Order Instructions
Click Default Order Instructions located on the left-hand side of the page.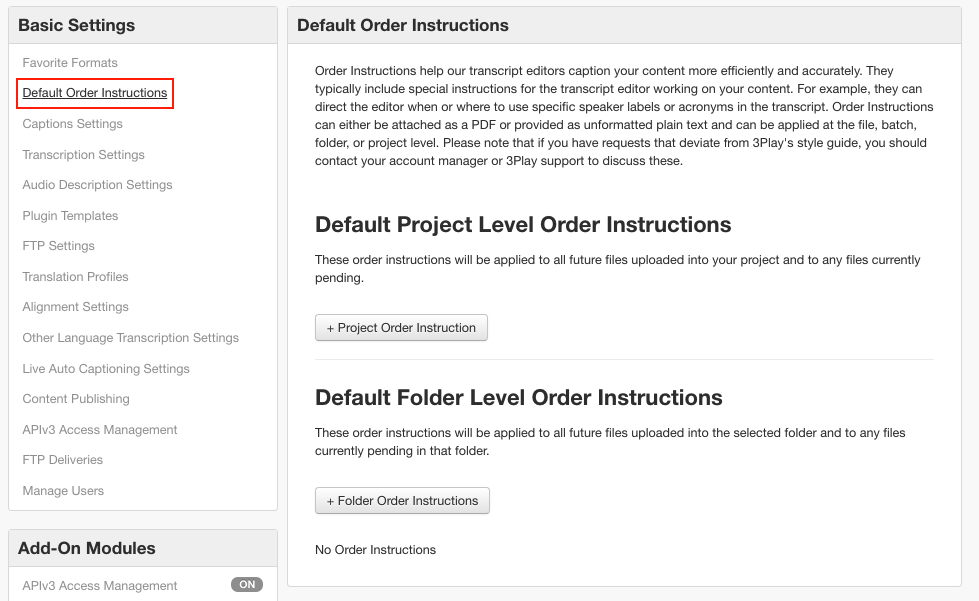 Step 3- Click + Order Instructions
Default Order Instructions can be added at either the Project or Folder level.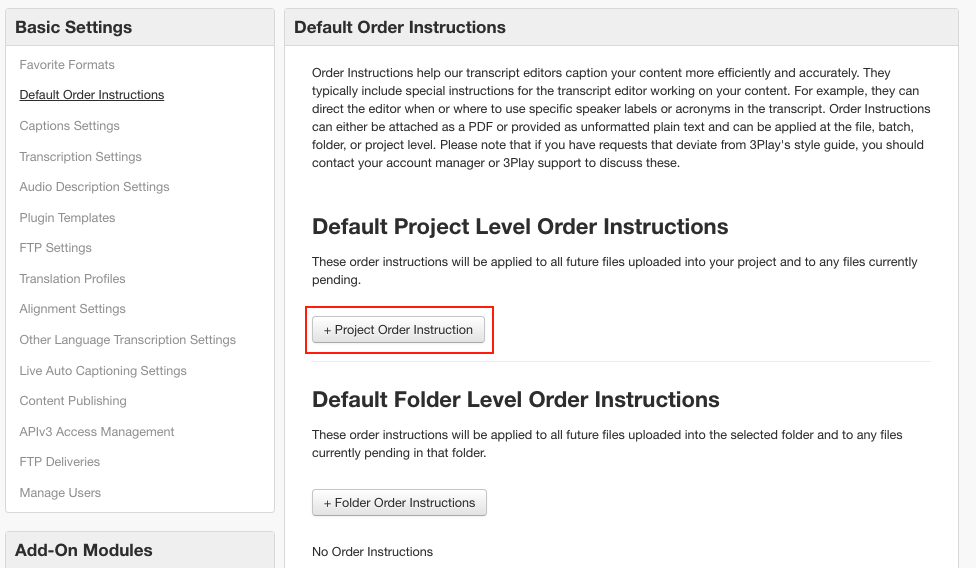 Alternatively you can add Order Instructions to a folder.
To do this click + Folder Order Instructions.
Select from the folder you want to add these order instructions to and click Save.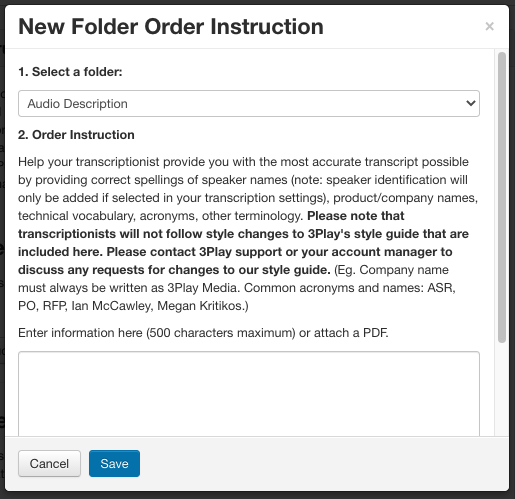 Once Save has been clicked, you will see a confirmation bubble that your order instructions have successfully been added to either your project or a folder.