The following article explains how to upload files using 3Play Media's Secure Direct Upload method. 
This method is best for uploading files ~500mb directly from your computer to 3Play Media for processing.  
Using this method you can choose up to 8 files per upload.
Before uploading your media files it is best practice to configure your transcription settings where you can set speaker IDs amongst other configurations.
See more information on Transcription Settings.
Default cheat sheets can be added to an individual file once it is pending but a folder or project level cheat sheet can be added before uploading giving our team more information unique to the content, e.g., product and company names, proprietary terms etc.
See more information on how to add project or folder level cheat sheets.
Step 1- Click Upload
After configuring your transcription settings click Upload on the top, left hand side of the page.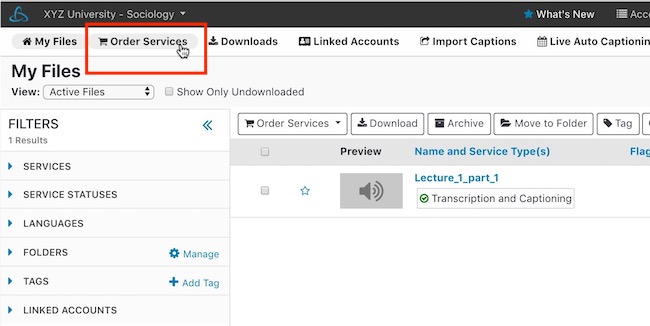 Step 2- Choose Files
Once Upload is clicked you are directed by default to Upload > From Computer.
Click Choose Files and select the media files from your computer.
Upload 8 media files at a time using the direct upload method.
Once files have been selected they will be listed in the upload queue. 

To proceed, click Upload.
Step 3- Choose Service
After the green progress bar reaches 100% you will be directed to Upload Options menu.
From the Service tab select either the English Transcription and Captioning default service, Spanish-Latin American Transcription and Captioning, or Alignment.
Choose the default service to have a transcript created from scratch using your media file (video or audio) as the reference and combines a technological approach with human clean up. Upon completion of the transcription process the file will be available for download in a variety of caption and transcript file formats. 
Choose Alignment service if you already have a transcript that you would like to have synced with a media file. Once complete the file will be available for download in all of the same caption and transcript file formats as if the media file had been submitted for the default service. 
Spanish-Latin American Transcription and Captioning, is NOT a translation service.  This service is used for Spanish content, that needs Spanish-Latin American Transcription and Captioning.  
See more information on 3Play Media's Spanish Transcription Service.
From here you can choose to add Automated Caption Placement or Manual Caption Placement to your file. Click here to learn more about our Vertical Caption Placement services.
After choosing your service click Continue.
Step 4- Select Turnaround Time 
Next set your turnaround service level.
The delivery date when the file/s will be completed is listed for each turnaround level option.
Once you have selected the turnaround time, click Continue.
See more information on turnaround service levels.
Step 5- Select Folder
Select an existing folder to upload your content to or create a new folder for this batch.
Once a folder has been selected click Continue.

Step 6- Review Order and Cancellation Policy
Review your order summary.
If you notice in your summary you would like to if you would like to change the destination folder, turnaround time, service type, or selected media files please go back and make the desired changes BEFORE clicking Place Order

Read the cancelation policy and check the box acknowledging that you have read the policy.
It is recommended to know how to cancel a file before uploading your content. 
See more information on how to cancel a file in the pending state.
Step 7- Place Order
Once you have reviewed your order checked the box acknowledging the cancelation policy, click Place Order.
Once Place Order is clicked your files will begin uploading and will start in the Pending State.
Cheat sheets can be added or attached to pending files as well as adding custom speaker labels.
Locate your file under the Pending Files section located in Files > Activity on the My Files page.