Step 1 - Log in to 3Play Media
Open a new browser window and log into your 3Play Media account.
Step 2 - Click on Settings
Navigate to Settings in top right corner.
Step 3 - Create or Manage an New API Collection
From this page you will be able to manage your API collections. 
You can create an API collection to include all files within all folders or create an API collection for files from specified folder from this page.
Click API Management located on the left-hand side of the page.  Click, and Create API Collection.
Note your credentials, as you will need them later to link to 3Play Media.
Remember to never share your Secret API Key!
Step 4 - Log in to DigitalChalk Account
Log into your DigitalChalk account and click Manage Courses.  
Next click Create New Course
Click Manage Course Elements.
Step 5 - Add Chalkboard
 Click Add a Chalkboard on the left side of the screen.  
 Add a title and description if needed, then click Save.  Next click Edit Chalkboard.
Step 6 - Link to 3Play Media Account
If there is no media in your DigitalChalk account, click HERE to learn how to add media. Once a video has been uploaded, and encoded, captions are ready to order.  Click the Setup button.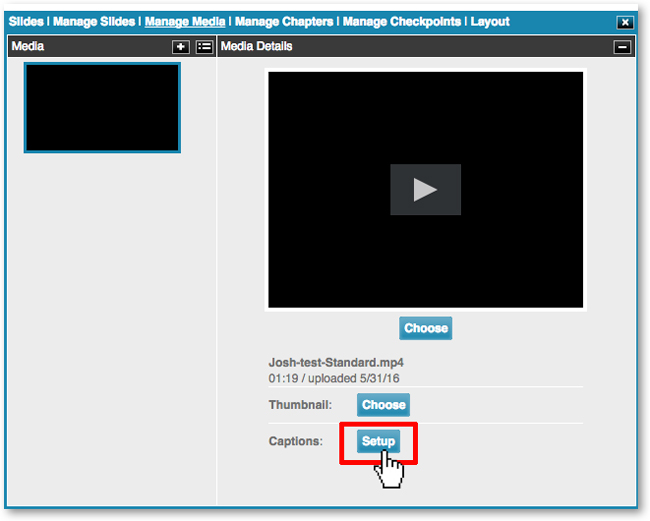 Enter the API Collection information noted in Step 2
Copy and paste the API Key and Secret Key into the fields on your DigitalChalk account, and click Save.
Submit caption requests from your linked DigitalChalk account
For more information, click HERE to view DigitalChalk's video tutorial.