The feature Connect to a Linked Account allows users to link a 3Play Media file to an asset hosted on a 3rd party platform. Once the 3Play Media file is connected to a linked account the captions can be sent to the hosting platform and associated with the asset using the manual postback feature.
To take advantage of this feature the media file submitted to 3Play Media must be uploaded not via a linked account/integration but by using a different upload method like direct upload or FTP. Once the transcription process is complete the captions can be posted back to a 3rd party linked account provided that the media file is residing on the 3rd party platform and the platform is linked to your 3Play Media project.
Connecting to a linked account and manual postback are also useful for caption import service subscribers. Import service subscribers who have uploaded pre-existing caption files can then post the imported caption files to their respective hosting platforms.
See more information on the caption import service
Note: Linked accounts must already be setup to be able to connect a file to a linked account. Also note that a 3Play Media file can only be associated with one linked account.
Follow the steps below to manually connect a 3Play Media file to an existing linked account.
Step 1- Select the File
Locate and select the 3Play Media file you would like to link to a 3rd party video-hosting platform.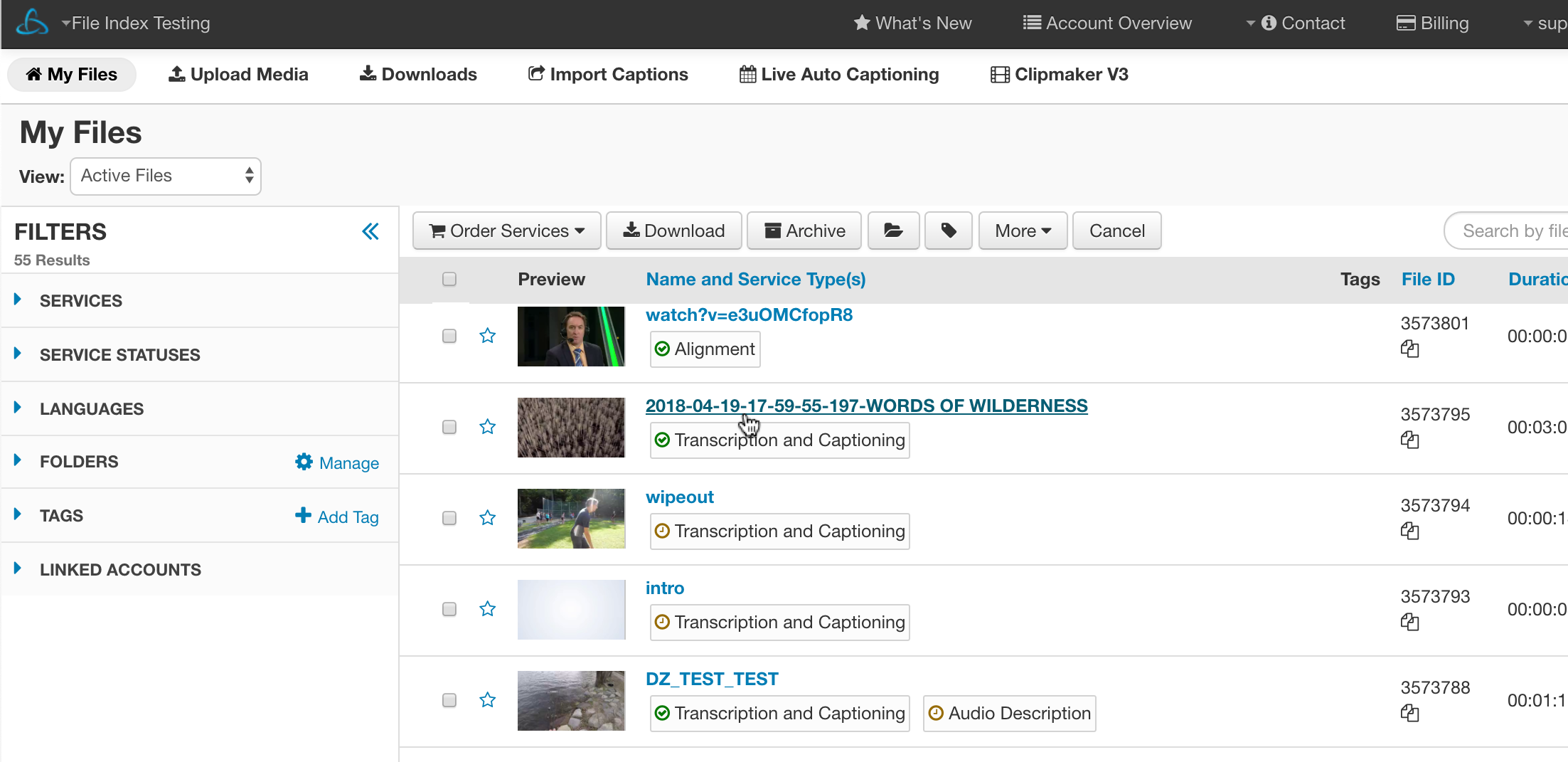 Step 2- Click Connect to Linked Account
After selecting the file locate the Details section to the right of the transcript preview window.
Click the Metadata tab and in the Linked Account field click Connect to Linked Account.
Step 3- Choose Linked Account
A list of all existing linked accounts will be display after Connect to Linked Account is clicked.
Select the linked account that you want associated with the file that was selected in step 1.
Once the desired linked account is selected, click Continue.
Step 4- Enter the Video ID
Enter the asset's unique Video ID.
Once you have entered the unique Video ID, click Submit.
Please note: Video ID's are provided by the hosting party's platform and different platforms use different ID naming conventions. For a list of video ID examples by platform see below!
| | |
| --- | --- |
| Hosting Platform Name | Format |
| Brightcove | 13-digit string |
| Kaltura | 10 or 5-character string |
| Limelight | 32-character string |
| Mediasite | 32-character string |
| Ooyala | 32-character string |
| thePlatform | 12-digit number |
| Vimeo | 9-digit number |
| Youtube | 11-character string |
Once the file has been connected to a linked account, you can now associate the closed captions with the asset using manual postback.
Next steps...