3Play's Brightcove In-Player captioning delivery workflow (delivered via 608 caption encoding) streams both the video and captions to Brightcove. If either the stream to 3Play or the 3Play stream to Brightcove is compromised, both captions and video will be impacted. As such we recommend that customers using this workflow establish a secondary stream for redundancy. This article outlines how to add a "Backup Stream" in Brightcove and schedule captions in 3Play for that secondary stream. Please note that with this workflow, both primary and secondary streams will be flowing through 3Play. You may also want an un-captioned tertiary stream directly between your encoder and Brightcove, or be prepared to re-route a stream directly to Brightcove in the unlikely event of a 3Play streaming issue.
Please note: Brightcove Backup Streams must be enabled through Brightcove, please reach out to your Brightcove account manager to access this feature.
Schedule your event in Brightcove
Follow your normal process for scheduling your event in Brightcove up until the Stream Options section (outlined here). Under the Stream Options section of the Brightcove scheduling workflow, select Add Backup Stream. This will create a second stream for your Brightcove event.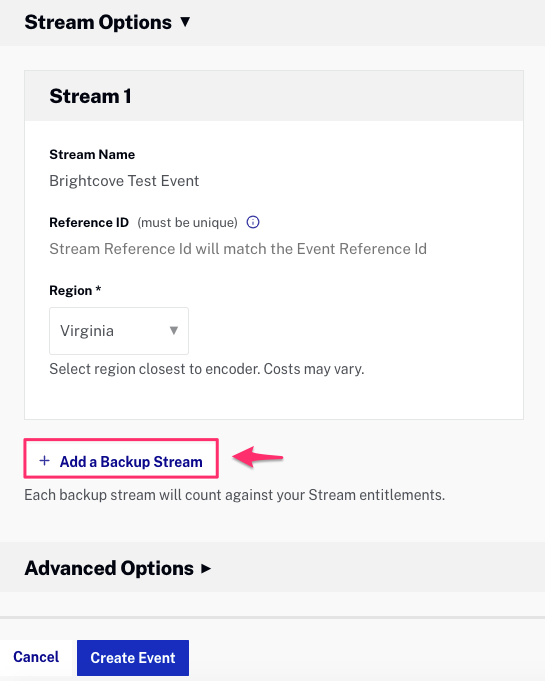 Schedule captions in 3Play
With your backup stream scheduled in Brightcove, two streams will be created for your event. Brightcove will title your streams as:
Primary stream: "[Event Name] - 1"
Backup secondary stream: "[Event Name] - 2"
Navigate to the Live Captioning section within your 3Play account, and select Brightcove under Schedule Captions. You will see both your primary and secondary Brightcove events reflected in 3Play. Select both events.
If you are using 3Play provisioned reserved infrastructure to stream these events, please ensure that you select different Channels within the advanced settings for each event. Both events cannot use the same Channel.

Configure your encoder and start streaming
On the scheduling confirmation page in 3Play, we will provide you with an RTMP URL and Key for each stream. Copy and paste these into your encoder. You can start streaming at the Stream Start Time that you selected during the ordering workflow. Do not attempt to stream to 3Play before the Stream Start Time, as the stream connection will fail to connect from your encoder to 3Play and your encoder may or may not display an error message. 3Play will indicate whether the streams have successfully connected in the 3Play application.

Failing over and back between streams
Upon successful connection, you may switch between primary, secondary, and/or tertiary streams from within Brightcove as needed. 3Play will continue to caption and restream the individual streams we are receiving.