Follow the steps below to schedule Live Captioning for a Zoom Webinar once Zoom has been linked to your 3Play Media project.
IMPORTANT NOTE REGARDING ZOOM CAPTIONING: Anyone with access to your 3Play Media project can schedule Zoom Live Captions for any Zoom event they can see in your project. However, in order to enable 3Play Media's Live Captions within a Zoom Webinar you must be the Host of the Zoom Webinar and have a Zoom Webinar license!
Prior to scheduling a webinar..
Step 1- Navigate to Zoom Scheduler
Launch the Zoom application.
Navigate to Home and click Schedule.
Step 2- Schedule Zoom Webinar
Set the webinar's Date and Time within Zoom, adding any other information and settings necessary.
Note that 3Play Media's Live Auto Captioning will work with a password-protected webinar.
Click Schedule.
Step 3- Navigate to 3Play Media's Live Captioning Module
Sign in to 3Play Media and click Live Auto Captioning in the top navigation bar.

Step 4- Within 3Play Media Click Schedule Live Captions

Step 5- Select Zoom
Click the Zoom icon.

Step 6- Input Scheduler's Email Address
Under Show Zoom events scheduled by: enter the email address that was used when scheduling the Webinar within Zoom.
Step 7- Select Webinar
Select Webinar and any upcoming webinars that were scheduled using the email address provided in step 6 will then display.

Check the box next to the Webinar requiring Live Auto Captions.
Step 8- Configure Live Auto Captions
See more information on scheduling Live Professional Captions
Stream start and reconnect settings
IMPORTANT: Events are scheduled using Eastern Time unless a new timezone has been configured at the user level and configured for users outside of the US-Eastern time zone.
Optional Settings
Add a wordlist of proper nouns or specific terms to improve accuracy
See more options in Advanced Settings overview
Step 9- Click Schedule Events
Click Schedule Events once an event or multiple events have been configured.
Once clicked, you'll be redirected back to the an event page within 3Play Media.

An email will also be sent to the email address provided in step 6 fifteen minutes prior to the caption event start time. If the the event starts in less than 15 minutes the email will be sent immediately. The email will contain shortcuts to assist in completing the setup process given Webinars may likely be scheduled far in advance of them actually starting.

If you have ordered Live Captions for a webinar that has already start, you will not need to wait for the email as the process can be completed by following the remaining steps below.
Step 10- Start Zoom Webinar
Go to the scheduled Webinar within Zoom and Start the event.
Step 11- Copy Zoom API Token and Paste within 3Play Media
Within Zoom, click Closed Caption.


From the menu that appears, click Copy the API token located under Use a 3rd party CC service.
Within 3Play Media paste the API token in the Zoom API token field associated with the event scheduled in step 8.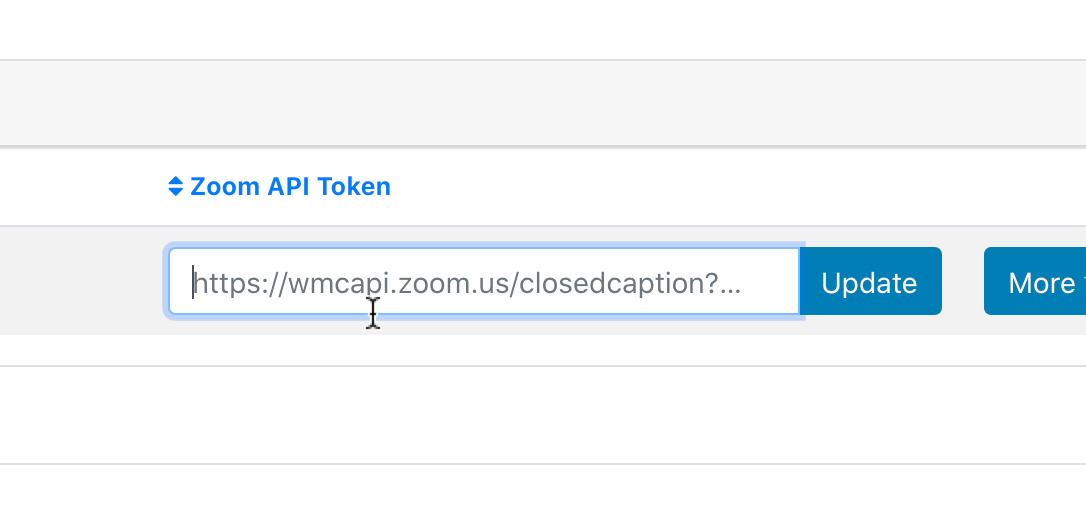 Next click Update.
IMPORTANT NOTE REGARDING THE ZOOM API TOKEN: The Zoom API Token is not a static URL, this can change if a webinar starts and ends and should only be added once the webinar goes live at the time of scheduling.
Step 12- Click Live on Custom Live Streaming Service
Within Zoom click More followed by Live on Custom Live Streaming Service.

The closed captions will be available as an option for all Webinar members shortly after this button is clicked.
Additional Resources