Follow the steps below once the HTML code for both the Brightcove Live Player and 3Play Media Live Captioning have been published and the live event is ready to start streaming!
Note: The steps below detail how to do this using OBS, an open-source streaming and recording program.
Step 1 - Copy the RTMP URL
Navigate to the scheduled event within Brightcove.
Click into the event's
Control Room
and copy the
Streaming Endpoint (RTMP URL)
.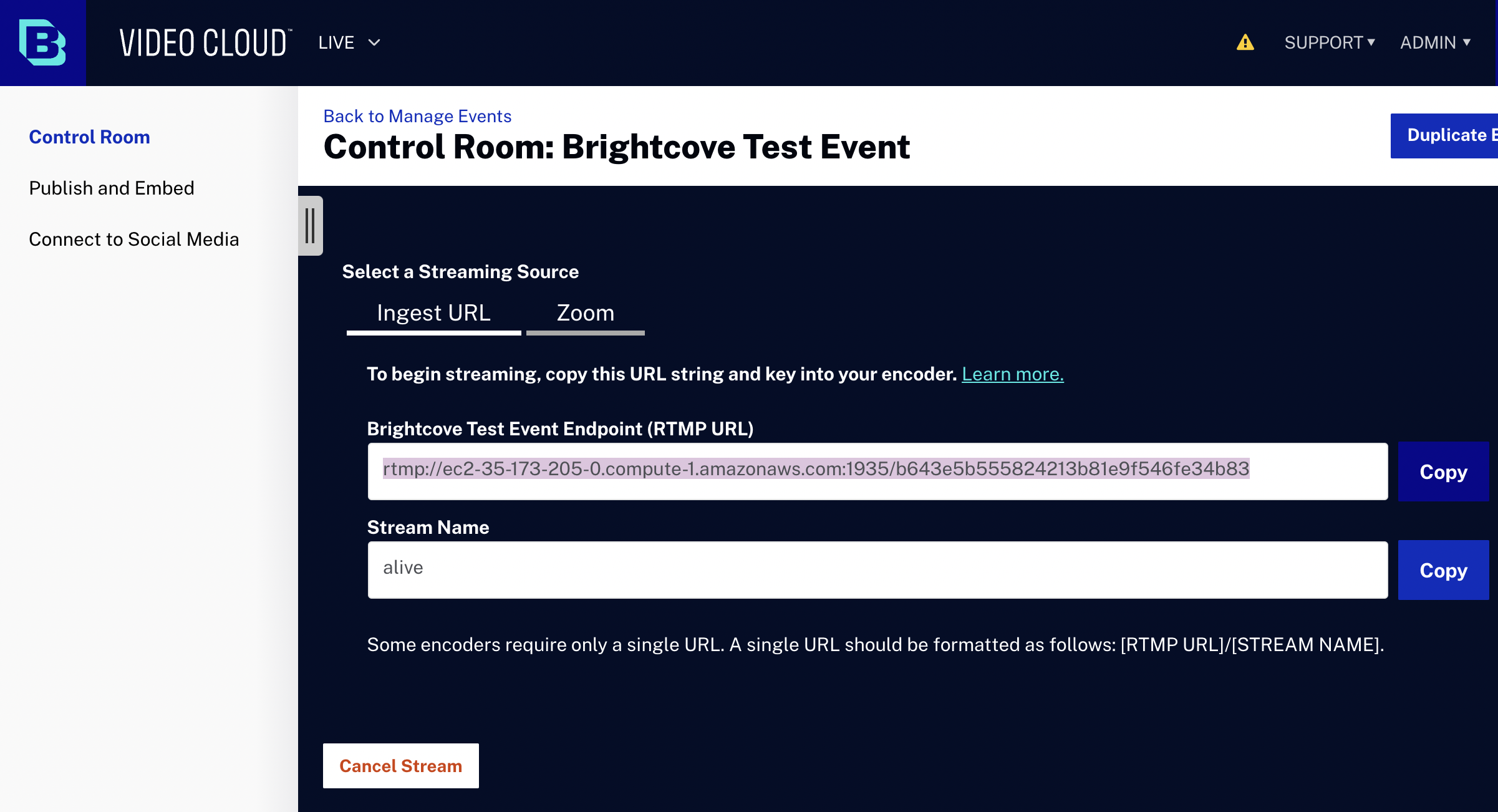 Step 2 - Launch Broadcast Program
Launch your preferred webcasting program.
Click here for more information regarding working with OBS and Brightcove
Click here for more information regarding working with Telestream Wirecast and Brightcove
Step 3 -
Paste the RTMP URL and Stream Key into Broadcast Program
In OBS, click the Settings button in the Controls section at the bottom right, then click on the Stream tab. You will be prompted for the Stream URL and Stream Key:
For Service select Custom
Paste the Streaming Endpoint (RTMP URL) in the Server field
For Stream Key enter alive
Exit out of the Settings page in OBS and Save Changes.
Step 4 - Add Media Source and Begin Streaming
Add a media source by clicking the + sign under Sources and either select a Media Source from the dropdown menu or configure an audio/video input.
Note: Ensure all unnecessary audio sources (eg, Desktop Audio or Mic/Aux) are muted in your encoder to prevent overlapping audio in your stream.
Click here for information on how to add a webcam to OBS
Once the sources have been set in OBS, and your event start time has approached, click Start Streaming.
Live captions and the Live Brightcove Event should be displayed on the webpage. Note that there may be a delay between the captions and video. It may be that the captions are actually playing ahead of the audio. Click here to learn how to offset the latency between the live captions and the media stream.