Once the integration between your MediaCore and 3Play Media accounts is set up, follow the steps below to submit closed caption requests directly from your 3Play Media linked account.
Step 1- Click Upload Media
After signing into your 3Play Media account click Upload Media.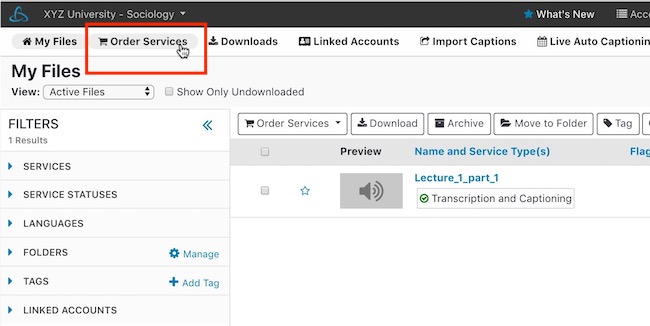 Step 2- Select linked MediaCore account
Select your linked MediaCore account.
Step 3- Select files for captioning
A thumbnail feed of all of the videos from your MediaCore account will display on this page.
Select the MediaCore videos you want submit for captioning.
As videos are selected the number in the Upload button will indicate the amount of videos selected.
Once the videos you want captioned are selected click Upload.
IMPORTANT NOTE: Videos added to MediaCore via YouTube or Vimeo will not be able to be selected for closed captioning. Videos added from Vimeo and YouTube will be indicated within the linked account feed with a (!).
Only videos that have been uploaded originally to MediaCore can be selected.
Step 4- Select Service
Select the default service English Transcription and Captioning to have 3Play Media create your captions from scratch. If you already have a transcript that you would like 3Play Media to sync with a Kaltura asset, select Alignment. Spanish-Latin American Transcription and Captioning, is also available.
By default Transcription and Captioning is selected. If you need your content transcribed to create captions and use 3Play Media's interactive video plugins, leave this option selected.
If you already have a transcript for your content, select Alignment Only.
See more information on 3Play Media's Transcript Alignment Service.
Spanish-Latin American Transcription and Captioning, is NOT a translation service. This service is used for Spanish content, that needs Spanish-Latin American Transcription and Captioning.
Step 5- Select Turnaround Service Level
Select a turnaround time for the files selected in step 3,
Step 6- Select Location Folder
Create a new folder where these files will reside once uploaded or select from an existing folder from your 3Play Media project.
Step 7- Cancellation Policy
After selecting the location folder, please read the 3Play Media cancellation policy.
Click the box to acknowledge the cancellation policy.
Step 8- Place Order
After reviewing your order summary, click Place Order to complete the upload process.
Immediately after upload cheat sheets can be attached to your pending files. Cheat sheets can provide helpful information regarding spellings of content-specific terminology and proper nouns.

See more information on adding a cheat sheet to a pending file