Once your file is completed by 3Play Media, closed captions and subtitles can be downloaded in the SRT format and then added to your YouTube content.
First you may want to configure the SRT caption format as one of your Favorite Formats so this will be available by default when performing a Quick Download.
See more information on how to configure your Favorite Formats.

If the YouTube content is not owned by you you will not be able to add the captions the video. However if this is the case, the workaround is to embed the YouTube player along with the captions plugin on a webpage.
See more information on how to embed a captions plugin with a YouTube player on a webpage
Follow the steps below to add captions and subtitles to a YouTube video...
Step 1- Select your file
Once logged into your account, click on the file's name to open the file show page.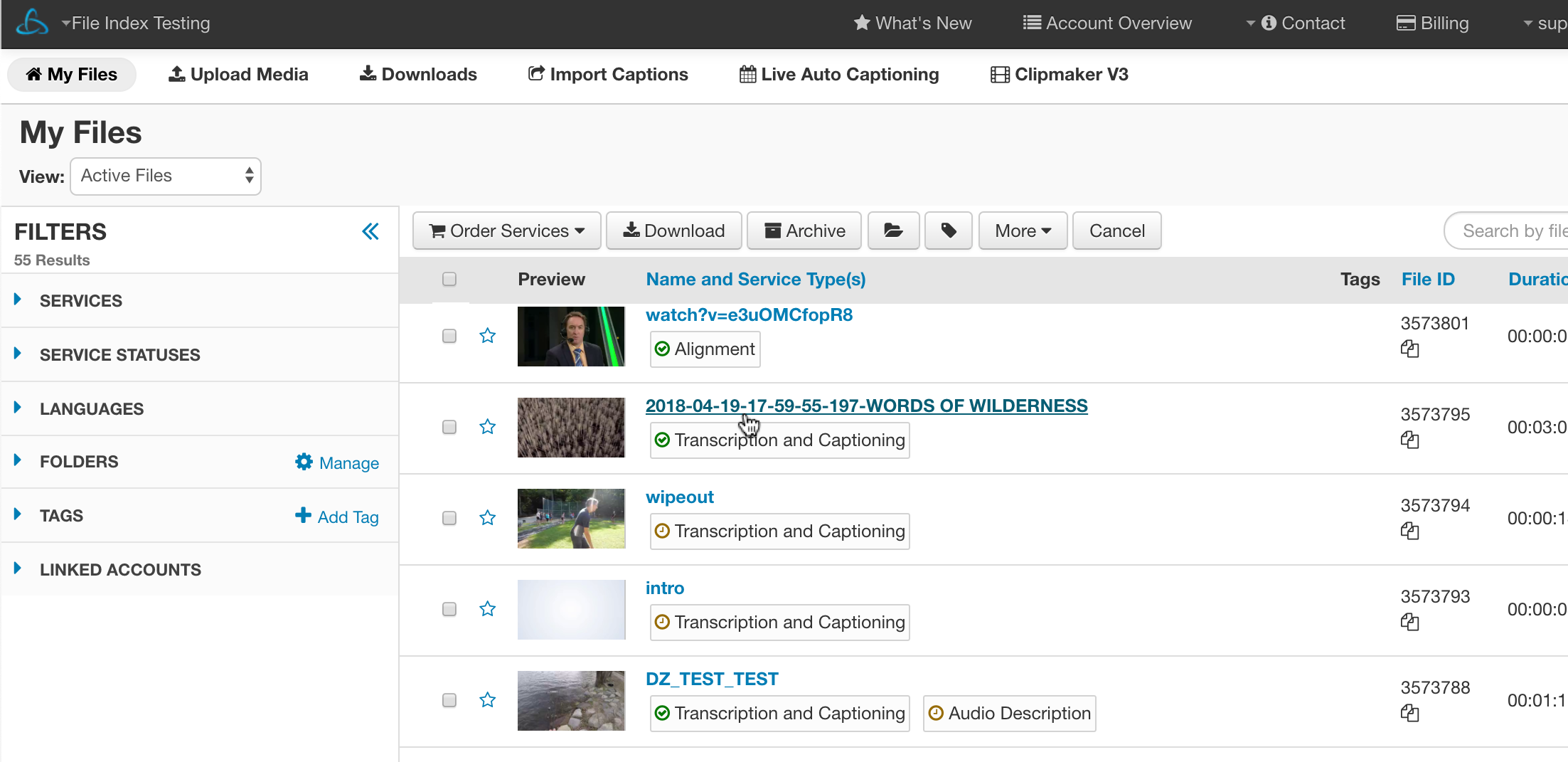 Step 2- Click Quick Download
Click the Quick Download icon.
See more information on using the Quick Download feature
Step 3- Download the SRT format
From the drop-down menu that appears click SRT from the Favorite Formats listed.
Once selected, your file will download to your computer in the SRT caption format.
 If you have not yet configured your Favorite Formats, the drop-down menu will display an option to add favorite formats.
Please note vertical caption placement is not supported by the SRT format. If caption placement was ordered for the file, instead of SRT, download the file in the webVTT format as webVTT does support caption placement and is also accepted by YouTube.
Click here to learn about closed caption formats supported by YouTube
Step 4- Sign into YouTube
Step 5- Navigate to Video Manager
On the top, right-hand corner of the page, click on your YouTube account name.  
From the menu that appears, click on Video Manager.
Step 6- Select the YouTube video you want to add captions to
Next to the video you wish to add the SRT file to, click Edit and a drop-down menu will appear.  
Click Subtitles and CC from the list of options.
Step 7- Click Add subtitles or CC
Step 8- Select language
Select English if you are adding an English caption file. If you are adding a subtitle, select the language that the subtitle file is in.
Step 9- Upload SRT file
Click on Upload a file.
Make sure that Subtitles file is selected under FILE TYPE.
Click Choose File and select the SRT file that was downloaded in step 3.
After selecting the SRT file click Upload.
Step 9- Publish captions and subtitles
After Upload is clicked the text from the SRT file will appear to the right of your video within the Subtitles and CC section of this video's Advanced Settings section..
Scroll down to the bottom of the page and click Publish.