If you use PowerPoint 2010 or later, you have the option of using STAMP. PowerPoint has an add-on (called STAMP – Subtitling text add-in for Microsoft PowerPoint) that allows you to add closed captions to the video and audio files in your presentation. Here are step by step instructions on how to use STAMP to add video captions to PowerPoint.
PowerPoint 2013 users can use Office Mix to add closed captions to their presentations.
See more information on adding closed captions and subtitles to PowerPoint 2013
Note: At the moment, STAMP is only available for Windows users.
Step 1- Download and Install STAMP
First, confirm which version of Microsoft Office you have, and check whether it is 32-bit or 64-bit (note: the default is 32-bit). To do this, open PowerPoint and navigate to File > Help > About Microsoft PowerPoint.
Make sure you have PowerPoint 2010 or later.
Go to Subtitling Text Add-in for Microsoft PowerPoint (STAMP) and download the correct version for your computer (32-bit or 64-bit).

Save the .zip file to your computer and extract the files.
Run STAMP Setup (32-bit or 64-bit).msi and follow the steps for installation. When this is done, open PowerPoint and navigate to File > Options > Add-ins. Verify that STAMP is listed under Active Application Add-ins.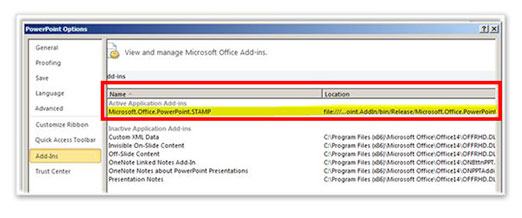 Step 2- Upload your Recording for Transcription & Closed Captioning
Log into 3Play Media.
Click Upload Media > Direct Upload.
Follow the onscreen prompts to specify turnaround and destination folder.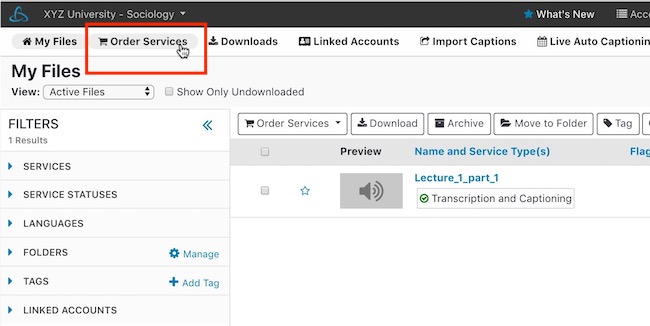 You'll receive an email notification upon completion of the transcription process.
Step 3- Download captions in the PPT XML format
Go to the My Files page in your 3Play Media account and select the file associated with your recording.
Click on Download, select the Web Caption tab, and click PPT XML. The file will immediately download to your local computer.
Step 4- Import the closed captions into Microsoft PowerPoint
From the Insert tab in PowerPoint, click the Video menu and select the video you want to add to your presentation. In Video Tools, click the Playback tab, then Add Captions.
Next click Captions from File.
Select your PPT XML file and click Open.
Once your captions have imported, you can edit or realign the captions from the Playback tab.
Select Show to display the closed captions.
Play the video from the beginning to see your results, and remember to save your presentation before closing out of PowerPoint.